Highlight News and Events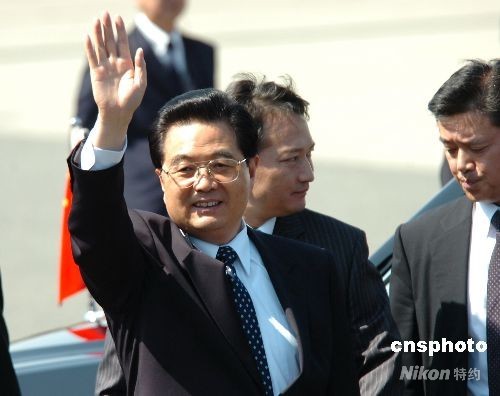 9.21 Welcome President Hu visiting New York, US
关于胡锦涛主席赴美访问的欢迎活动
What: Welcome President Hu to the United States
When: Sept. 21, 9:00—11:00a.m.
Where: New York City (transportation will be provided)
Our very own, the lovely President Hu Jintao will be visiting the United States this Sept! To show our respect and love for our president, we will go to NYC to welcome the president. Free transportation to NYC, along with national flags and slogan will be provided. Please contact us if you wish to attend this honorable event on Sept 21.
ACSS News and Events
9.15 ACSSPU New Students Welcome Party
What: ACSSPU Welcome Party for New Students
When: 7:30p.m. to 9:00p.m, Sept. 15
Where: GC coffee house
Why: For new students, you can social with other Chinese students, introduce yourself to us, make friends, and learn what ACSSPU will do for you, and MORE ...
For senior students, it is a great chance to see new faces!
Representative from PNC bank will be presented to help new students open bank accounts. For each new account opened, the new student earns $100 and the person who picked up that student earns $25.
10.10 Mid-Autumn Gala
What: Mid-Autumn Gala for the celebration of the traditional Chinese holiday, Mid-Autumn Festival
When: Oct. 10
Where: New Carl A. Fields Center
Different Room, Different Staging,
Different Faces, Different Performances.
As pre-notice, we can tell you that besides of traditional shows, we are going to have professional performances form NYC, and wonderful shows from Columbia, NJIT, Rutgers, UMDNJ, Rider, and so on. Of course, PCT will also give a pre-show of their new performance. Food is also enjoyable, as always.
ACSS Announcement
ACSS committee 2009: (see detailed introduction below)
Co-presidents: Fei Ding (G) & Zhihan Ma (U)
Vice-president: Yupeng Liu (U) & Lei Qi (G)
Social Chair: Haifeng Luo (G)
New Students Representative: Zhexing Wang (G) & Jingke Xu (G)
Broadcasting Chair: Rong Ge (G)
Treasurer: Meng Zhang (G)
Public Affair Chair and Secretary: Tianshu Sun (U)
Sponsors
China UnionPay中国银联
All the expenses concerning the pick-up of new students
China UnionPay provide a easy, cheap way to bring money from China to US. For example, using China debit card to get cash in US, you only need to pay about ¥24 for $700. See more details below.
PNC bank, Princeton branch
Sponsor for Mid-Autumn Gala
PNC bank, Princeton branch provide members from ACSS $100 for opening new accounts and $25 for referrers. See more details below.
Other Related Events
Intercollege Pingpong Competition:
When: Sunday, Sept. 13
Where: SPIN Pingpong Club in NYC
Why: for the celebration of China's 60 birthday
Several prestigious guests(see below for details) are invited to this game. If you are interested, please contact us immediately so that we have sufficient time to form a team to compete.
Introduction to New ACSS committee
1. Co-presidents: Fei Ding (G) & Zhihan Ma (U)
For the first time, the ACSS presidency is held by both graduate and undergraduate student. It shows our commitment to making ACSS as a family for both Graduate and Undergraduate students. By adding a presidency position, we wish to let undergraduate students feel more involved and show that U and G are equal at ACSS. The other reason for this position is to give opportunities to great undergraduate students and make our service better, because we did not have the option to select undergraduate student as the president, and some undergraduate students are as good as, or even better than us graduate students.
Zhihan Ma, is a junior undergraduate student. She has working experience on more than six student organizations' board. As a combination of a very nice person and an expert in undergraduate organization and public affairs, there is no reason not to select her as co-president. We hope Zhihan will bring much better corporations with other students organizations, and have much more financial support from the undergraduate sector.
2. Vice-president: Yupeng Liu & Lei Qi
VPs are in charge of big events, and also assistants to presidents and chairs with daily work.
Yupeng Liu is also a undergraduate student, second year. She is one of the main characters in 暗恋桃花源, and director of 雷雨. Thus, we have great confidence in her competence. Combined with her kind-heartedness, Yupeng undeniably suits this role.
Lei Qi is a third year graduate student. He was involved in the last ACSS, and was very well-received. He is especially recommended by last president Wenzhe Cao. Thus, we believe that he can bring us a lot of experience, and make a great success in this position.
3. Social Chair: Haifeng Luo
Besides the usual work of a social chair, this year, all athlete chairs' and special event chairs' work is rearranged into social chairs' work. So social chairs take in charge of all the U/G daily life. We hope to find him some helper later into the semester.
Haifeng Luo is a second year graduate student. Most would agree that he is the best choice for this position. He has a lot of good graduate friends, and is also very popular among the undergraduate students. Besides, he enjoys—and is good at—socializing. Thus, this social chair position fits him very well.
4. New Students Representative: Zhexing Wang & Jingke Xu
This is a traditional position. They are in charge of all the details of new students' life. They have a big burden, lots of deadlines, urgent and difficult problems, and time-consuming works. Their work is not only helpful and meaningful, but also responsible for the future of ACSS.
Zhenxing Wang is a fourth year graduate student. He is really famous for his kind-heart. He holds movie and poker nights nearly every week, which is an essential part of many graduate students' social life. He also has lots of experience in picking up new students, and thus we put the burden of the insurance of the success in helping new students onto his shoulders.
Jingke Xu is a second year graduate student. His kindness and warm heart impresses the people around him, which is why he is invited to help new students. He already did a great job in responding new students' emails, and made the schedule for picking up new students. He is the new blood for this traditional work.
5. Broadcasting Chair: Rong Ge
We are going to make a good, useful, helpful and powerful website this year. We are also going to make big changes in daily and event broadcasting.
Rong Ge is the main operator of this reform. He is a second year CS student. His expert in website technologies is the firm base, while his enthusiasm is the key to getting ultimate success. We also wish to find him helpers, first-years preferably.
6. Treasurer: Meng Zhang
He is the richest guy in ACSS, taking care of all the money :)
Meng Zhang is the best financial expert we can have. He is always telling his friends how to save money, how to spend money wisely, and how to prevent wasting. Thus, he is highly recommended for our financial advisor to everyone. We believe that a swimming pool can't let him fully exercise, and we should give him a sea to see how good he can do.
7. Public Affair Chair and Secretary: Tianshu Sun
The last introduction is our public affair chair, Tianshu. She is also the secretary of ACSS.
This position is a new position. One reason for this is because cooperation and financial support are really important for our ACSS, and we are going to make huge improvement of it this year. So we need more talented and experienced persons. Another reason is that the combination of secretary with this chair can make better convenience and efficiency.
Tianshu is a second year undergraduate student. She works in several boards of undergraduate organizations, also acted in 暗恋桃花源 and 雷雨. Her organizing competence and enthusiasm impressive and she gave many good suggestions about ACSS structure from the beginning of the buildup of the committee. She has many novel ideas about her work and is also very prudent. This position might even have wronged her.